This tool collection wants to help Ubuntu translators in their daily work. If you have ever aksed one of the following questions, u-t-t could provide you an answer: In which package can I translate this message/dialog? What is the difference between these two po files? How can I access the translation page of a package in a faster way compared to clicking through the whole website tree or manipulating the url? Where can I get the automatically updated language packs?
Tools
podiff
podiff is a command line tool which compares gettext po files. These files contain the original messages and their translation. It allows to easily spot new, fuzzied, changed or lost translation and new or removed messages of two different po files. The ouput is a lot more human friendly than the one of the often used "diff -ruN" command. Furthermore it features a po file creation function: all changed and new translation will be written to a po file which hoepfully makes reviewing and sending to upstream a little bit easier. Type "podiff –help" in a terminal window for more information.
search-translation<
This command line script searches for a message or translation in the locally installed language packs. With search-translation you can easily find the po template and the corresponding package of a message in the user interface. It was inspired by a script posted by Malcom Parsons on the ubuntu-translators list some time ago. The motivation is that Launchpad Translation does not provide a corresponding search function. Type "search-translation –help" in a terminal window for more information.
language pack repository
Shipping a sources list snippet the semiweekly language pack updates can be enabled in System>Administration>Software Sources on the third-party software tab by just one click.

Rosetta FireFox search box
This custom search engine for FireFox allows you to access the Launchpad Translations website of a package in a very fast way: Select the Ubuntu Package Translation search engine, type the name of the package and press enter.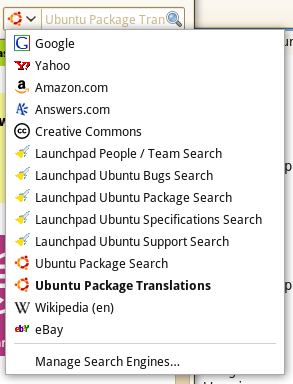 Install
To install ubuntu-translators-tools for Ubuntu 8.04 you have to enable this personal package archive. Just add the apt sources list entry in System->Adminstration>Software Sources>Third-party>Add or using your favourite text editor in /etc/apt/sources.list. Afterwards install the package ubuntu-translator-tools.